專題文章:"SP4P" 帶你了解JBT新一代四活塞卡鉗

10910 次閱讀

四活塞依舊是大部份車種所選用的規格套件
The 4 pot caliper brake kit is the popular upgrading options for most vehicles.
JBT新世代四活塞SP4P,採用最新油道設計使輸出區間更加縝密,其取決你的操控給予適當的輸出,
本體為重力鑄造製程,提供更佳的剛性以及抗拉強度,改善鍛造製程對於油壓分泵領域的缺陷以及限制。
"SP4P" is the JBT new generation caliper with an innovative technology. It has new designed by casted production,
which offers better structural strength to resolve and avoid the defects about forged calipers.
Therefore, the braking power is depending on how much you push the brake pedal, and the braking performance works precisely.
活塞尺寸為42mm/38mm,活塞材質皆使用不銹鋼原料,增強抗氧化性,確保活塞作動滑順、耐久。
避免外在因素影響,將其維持最佳制動狀態。
The sizes of piston are diameter 42 and 38mm,
we chose stainless steel for better anti-oxidation to keep the operation working well all the time.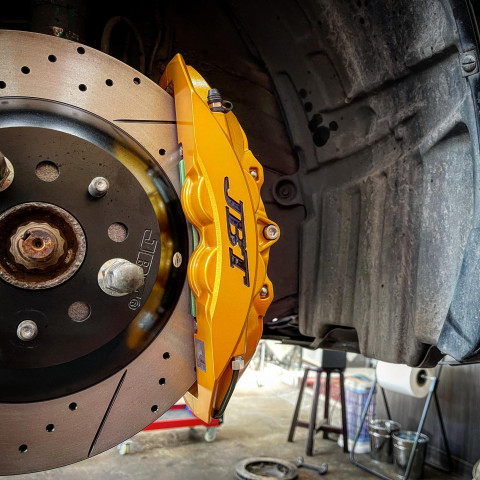 來令片使用F40,規格為世界最通用,讓你可以選擇不同的廠牌搭配更多變化性。
The brake pad is same with F40 as the regular type in the world.
You can use many brands product for your specially using.
此卡鉗套件也通過德國FAKT認證,透過AUDI RS3在賽道、實驗機上測試,確保產品性能及安全性,
在國際認證機構結果中,不僅提供給您更多安心,更重要的是身為保安部品應有的考靠性
The brake kit also owns the FAKT certification from Germany. It was testing on Audi RS3 from track and street,
and also passed the conditions by machines as well. The report is not just only telling you the reliability,
but the most important part is what the security products should be.
卡鉗對應規格分為兩種版本。
1.搭配一體成形碟盤所使用,碟盤厚度為26mm,直徑為330mm
可以對應17吋鋁圈塞滿的視覺,18吋鋁圈剛好的空間。
2.搭配浮動碟盤所使用,碟盤厚度為32mm,直徑可對應到330/355/380三種直徑
鋁圈對應也從17/18/19吋。
SP4P has two versions.
1.One-piece version, the rotor used 26mm and diameter 330mm, and it can fit on 17 inch rims perfectly at view.
2.Floating version, the rotor used 32mm and diameter can be 330, 355, 380mm, and it is available 17, 18, 19 inch wheels.
想對產品更加了解
If you want to get more info.
可以聯絡JBT Facebook
You can contact our Facebook website.
https://www.facebook.com/jbtbrakesystem
也可以觀賞JBT YouTube channel
And also can research our YouTube channel for introductions.
https://www.youtube.com/channel/UCYsECPqF3Sr4XmZGREex91Q
而更多精選美照可以到 JBT instagram.
You can find many fantastic photographs on Instagram.